IMPORTANCE OF ROUTINE VETERINARY CARE FOR OLDER PETS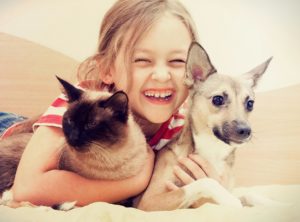 Our pets are family to us and we want to give them the best. Providing routine care is one way we show our love. As they age, it can be difficult to recognize what our pets need. It becomes even more important to pay close attention to changes in their habits and maintain regular visits with your veterinarian.
When is your pet a senior pet? Cats and small breed dogs are considered senior at 7 years of age while large breed dogs are typically considered senior at 6 years of age.
For pets that have not yet reached senior status, it is recommended to have yearly exams. Along with the annual exam, your veterinarian will recommend routine vaccines, internal parasite control, heartworm prevention and flea/tick control. Other preventatives may be offered based on your regional location.
Once your pet becomes a senior, routine exams should occur every six months. Diagnostics such as bloodwork and urinalysis will likely be added to the exam. Based on those findings, further tests may be recommended to investigate any findings of concern. If there are specific problems, more frequent rechecks and diagnostics may be recommended to keep your pet as healthy as possible.
Your veterinarian will most likely discuss common problems in senior pets:
Osteoarthritis
Chronic Kidney Disease
Liver disease
Behavior problems
Heart disease
Thyroid disease (hypothyroidism in dogs and hyperthyroidism in cats)
Dental disease
Diabetes
Other endocrine diseases
Weight control
It is important to have annual (or bi-annual) routine exams, blood-work and urinalysis to maintain your senior pet's health.  By following your veterinarian's recommendations, you may catch problems before they progress and keep your senior pet in tip-top shape.
/wp-content/uploads/2018/11/smallLSACr-1.png
0
0
LSAC
/wp-content/uploads/2018/11/smallLSACr-1.png
LSAC
2017-12-01 16:51:11
2017-12-01 16:52:40
Routine Care